During and after college, I used to be an avid attendee at my local Planet Fitness. Then exercise bulimia got in the way.
I would often go to the gym twice a day, especially after bingeing on dining hall food to the point where I would make myself sick. Exercise became a punishment, a compensation, a labor.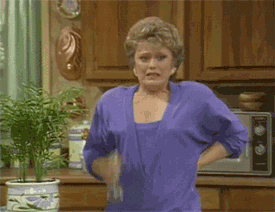 I took this behavior home with me after graduating from college, too, even when I started to recognize my eating disorder for what it really was–a disorder. I was obsessed with my body and food and unwilling to compromise with myself. I slowly began to resent the gym and movement pretty much altogether, and was restricting enough so that the gym wasn't necessary for compensation anymore. This led me down a dangerous path.
I was also a track and XC kid from 7th to 10th grade, when my knees wouldn't let me run distance anymore and I had to give up the sport. I used this, as you can probably guess, to my full advantage when creating my elaborate eating schemes and compensation behaviors. I ran and ran and calculated each mile ran or walked down to the 1/10th of a mile. I did crazy sprint drills on the bleachers at my high school (when I was home for the summer) and strength exercises like the football players do in movies.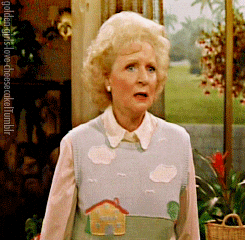 Until one day just before my college graduation, after a really memorable experience of feeling so disgusted with myself on an elliptical that I couldn't keep going after fifteen minutes, I swore off exercise machines for life.
What I didn't realize then was that it wasn't the gym's fault that I had this attitude; it was my intention and (over)use of the gym itself that created an association with disorder, misery and self-consciousness in my own head.
Now, I was born with a displacement in my hips; one is a few degrees higher than the other, and it makes my right knee joint work harder to reach the ground (knee pain), AND, to top that off, I have flat feet.
So basically, from the waist down, I'm pretty prone to a lot of clicking and pain in my hip joints. I feel like one of the Golden Girls and I'm only 25 (if I were a GG I'd absolutely be Dorothy btw).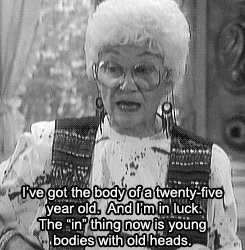 Recently, I re-joined a gym for the first time in about three years. I'm back at the same Planet Fitness I used to belong to in college and would visit frequently on my breaks from school and weekends home. Except I signed up with a new goal in mind–health and strength first.
My hip pain motivated me to go get stronger, and I've since been doing that. Often times, fat folks get diagnosed as fat when they're in pain–and it's not always incorrect, because there are certain joints in our bodies that bear weight (load-bearing joints); and to stress them out creates mobility compromises for some folks. But for me, my knees have always been jacked up, fat or not–hips too.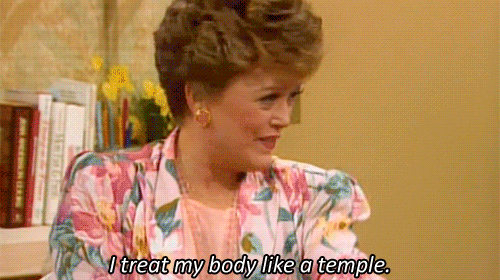 But just as often as fat people get told to lose weight to improve their health, thin people don't. Thin people with the same joint problems I likely have will be told to stretch more, strengthen and work out more–but I guess when it comes to fat folks, it is assumed that we can't, won't, or aren't already doing those things for our health or to maintain strength in the areas that cause us pain.
So I went to the gym telling myself "I'm going to make my left hip pain less frequent and severe," and that's just what I did.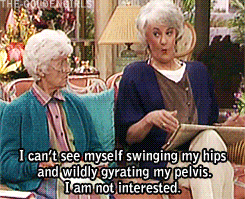 So far, I've been there twice since signing up, and I did two weight circuits, a stretching sesh, and some specific leg training stuff like lunges. I even made time for the stair climbing machine of death that I used to be terrified of because I fell off once. I went on for only five minutes because it was like reaaaaaaaallllly hard, but I took what I could and didn't do it past my threshold of enjoyment. That's what exercise is all about, I'm slowly learning–our intention and the ways we plan to connect with and interact with our bodies while we move them.
To extend this bada** gympowerment thing even further, I told my mom not to comment on my appearance or physical activity and especially not to connect it to weight loss since that's not what I'm there for–and so far, those boundaries have been maintained which is so tremendously huge for me. There is nothing better than to be seen and heard and respected all while getting to improve my health in a way that has nothing to do with weight loss, and to receive the recognition that there is worth–and health–beyond my weight.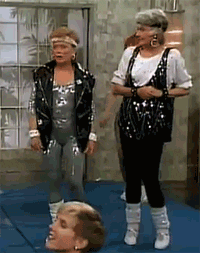 Stay tuned for more updates from the gym!